We keep hearing about "Digital Transformation" and have also seen positions like "Leader – Digital Transformation" being taken up in large organizations. But what does it mean?
Digital transformation for enterprises is the process of changing current business processes by leveraging digital technologies to fundamentally change how the organization operates and delivers value to its customers. This can include using technology to automate and optimize current business processes, improve ways and quality of customer engagement, and create new revenue streams.
The objective of digital transformation is to make an enterprise more flexible, efficient, current in terms of technology and processes, and competitive in the digital economy. The role of the Digital Transformation Leader is to drive this change across the organization in a structured and phased manner, achieving the desired results.
The Components of Digital Transformation
Digital Transformation for enterprise has three key components:
Technology: Use technology as the critical enabler for change. Implement cutting-edge technology like Cloud computing, the internet of things, ML/AI, and analytics to automate and optimize business processes.
Business Model: Here, we would like you to return to the drawing board and think about how the organization operates, engages, and delivers value to customers. It might involve creating new business models, processes, and organizational structures, adopting new tools, and creating new revenue streams.
Culture: The organization's culture is at the center of each enterprise. One of the critical aspects of driving Digital transformation is to adopt or develop a culture open to Innovation and change and support using digital technologies to improve the customer experience and drive growth.
These three components are interrelated and must work together seamlessly for a successful digital transformation. Following a structured process to plan for the digital transformation will ensure success while reducing time, effort, and errors.
Also Read: How to Overcome the Never-Ending Project Syndrome?
Steps for Digital Transformation
Let us look at some of the essential steps for digital transformation for an enterprise.
Step #1: Creating a clear digital transformation strategy
Many organizations begin a digital transformation initiative without clearly understanding what they want to achieve or how they will measure success. Start by clearly defining your goals and objectives and identifying the critical areas of your organization that can benefit most from the digital transformation. Ensure that the program is in stages and not excessively ambitious.
Step #2: Hire an independent consultant to assess your current digital maturity
Hiring an independent consultant will enable you to perform an unbiased assessment and also understand your current digital capabilities and gaps to be filled, and recommend the relevant technologies, tools, and platforms that the organization can explore to help achieve its desired goals.
Step #3: Build a cross-functional team
Assemble a core Digital Transformation team with people with the necessary skills and expertise to implement your strategy, including IT, security, business processes, and digital technology experts. Digital transformation requires coordination and collaboration across different departments and functions. Organizations that need more governance and oversight may need help to align their efforts and achieve their goals.
Step #4: Define a technology roadmap
Develop a plan to integrate new technologies and processes with existing systems and infrastructure. Check where upgrades/replacements are applicable. Also, ensure the scalability and sustainability of your digital transformation as per your strategy. Digital transformation projects can be complex and require expertise from multiple technology, operations, and business areas. The complexity can lead to delays and cost overruns.
Transparently communicate the changes: Guarantee that all the benefits of digital transformation, as well as each change/impacted area across the organization, are displayed to all stakeholders involved, including employees, customers, and partners.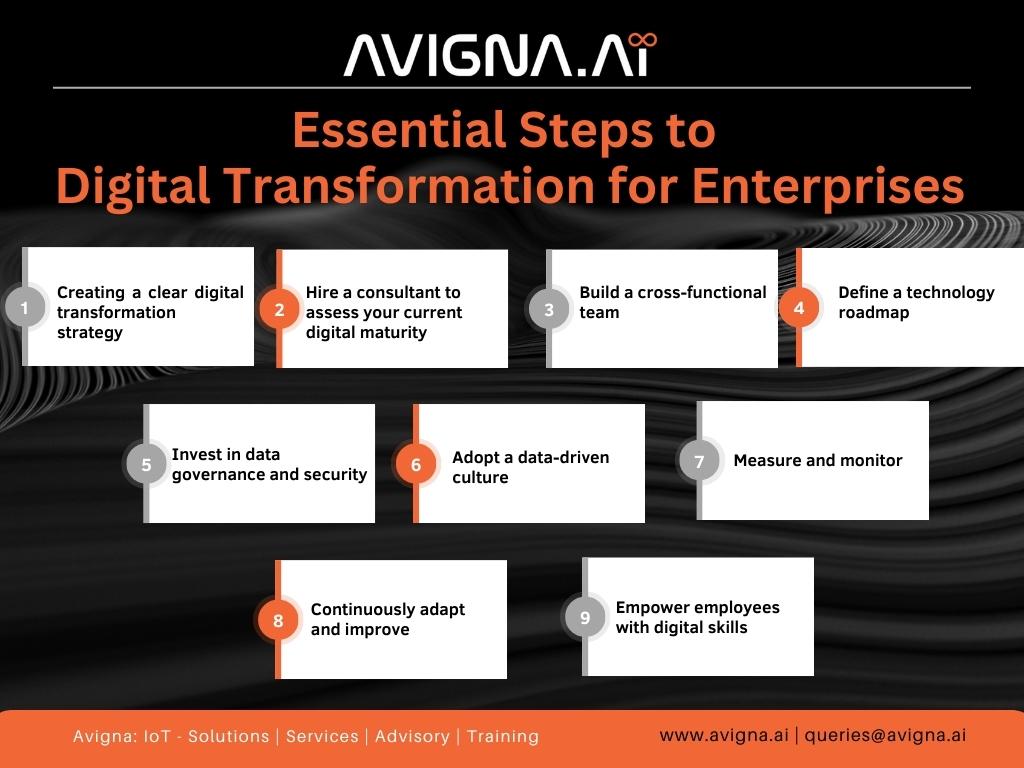 Step #5: Invest in data governance and security
Ensure the security and privacy of data, and develop a data governance framework to manage data effectively and ethically. Digital transformation can bring significant benefits, but it also carries new risks. Organizations that fail to manage these risks, such as data security and regulatory compliance, can suffer serious consequences.
Step #6: Adopt a data-driven culture
Foster a data-driven culture that encourages experimentation and Innovation, focusing on continuous improvement.
Step #7: Measure and monitor
Continuously monitor and measure the success of your digital transformation efforts and make adjustments as needed. Digital transformation projects are long-term efforts. By monitoring progress, organizations may know if they are on track to achieve their goals and if the project is delivering the expected results. Digital transformation projects can be costly and require significant resources. With proper tracking of aspects like budget and resource allocation, companies can see their digital transformation through to the end.
Step #8: Continuously adapt and improve
Stay aware of technological advancements and market trends, and adjust your strategy and operations accordingly. Digital transformation will bring changes to people, processes, and technology. With a change management plan, employees may know how to adapt to the new ways of working, leading to clarity and faster adoption.
Step #9: Empower employees with digital skills
Encourage your employees to embrace digital transformation and provide them with training and development opportunities to acquire digital skills. Digital transformation is not just about implementing new technology; it's also about changing how an organization operates and its employee's work. However, focusing too much on technology can lead to resistance from employees and a lack of buy-in from key stakeholders.
The Digital Transformation Edge
Digital transformation can deliver many benefits to organizations, including improved efficiency and productivity. Digital technologies can open up new opportunities for organizations to create new products and services and to enter new markets, helping foster a culture driven by Innovation using technology.
Organizations can quickly respond to changing market dynamics, new opportunities, and customer needs, improving their understanding and engagement with customers through analytics and other digital tools. It also helps improve employee satisfaction and retention by providing them with modern tools, technologies, and training for growth.
Digital transformation can improve how organizations work with partners and customers across departments and functions. Streamlining processes, automating tasks, and reducing errors can lead to cost savings for the organization.
Like the famous Benjamin Franklin quote: "By failing to plan, you are preparing to fail.", Ensuring that following the proper process and steps to implement the transformation while spending the necessary time planning will ensure a successful outcome.
At Avigna, our customers love us for our expertise in crafting digital transformation strategies for their business growth. Collaborate with us to take your business to the next level with a cutting-edge digital transformation strategy. Contact us here or say hello to us on LinkedIn.